As Dietitians we weren't taught much in school about how to run your own business, let alone do it in an unconventional way like blogging!
I took Erica Julson's course, Make Money Blogging, and saw a noticeable jump in my income right away.
If you're at all interested in blogging to make money, keep reading to learn whether this course could help you!
Note: As of Fall 2020, this course has been retired.
Taking a course is your best bet to get a strong foundational understanding and help design a strategy for your own website!
That's why I took Erica Julson's Make Money Blogging Course!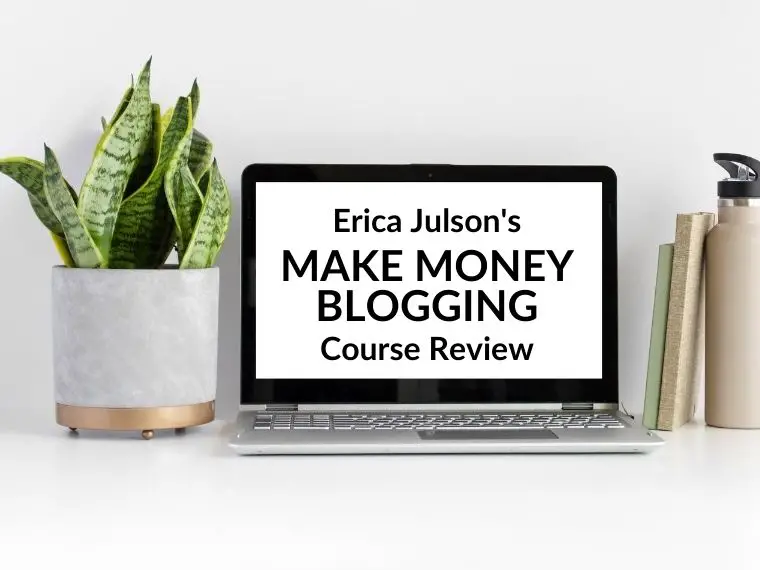 This page contains affiliate links which means I may earn a commission if you use them, at no additional cost to you. See disclosure policy for details.
Erica Julson is a Registered Dietitian who is making a full time income online!
She runs a membership site for functional nutrition practitioners, has an awesome Facebook group for unconventional RDs, a podcast for dietitians who run online businesses, AND has courses geared towards dietitians on:
This review and case study is only about the Erica's course, Make Money Blogging, but I will add reviews of the other courses once I take them as I have them all!
My income noticeably increased after taking this Make Money Blogging course so I wanted to share my results with you in this review.
A bit about me:
I'm a Registered Dietitian and blogger at Frugal Minimalist Kitchen.
I've had my site since Sept 2017 but really didn't start working on it seriously until 2020. Since then I've been making consistent passive income from my blog that is growing month over month.

I'm going to go over Erica's Make Money Blogging course from an insider perspective so you can see if it's right for you!
Disclosure:
I entered a giveaway and received access to Erica's Make Money Blogging course for free. It's only appropriate I disclose that to you as you read through my review and experience with the course.
That being said, this review you're currently reading is voluntary. All thoughts and opinions are my own.
If you purchase any of Erica's courses through my link, I will earn a commission for referring you, at no extra cost to you. NOTE: this course is closed for admission as of November 30, 2020, but her SEO course is still available. Read my review of SEO Made Simple.
My Results:
Going into this course, I already had an understanding of how to make money blogging and I was even making some money in various ways. I wasn't starting from scratch by any means! I was able to use the solid base of articles I had written to accelerate the growth.
I finished the course in July 2020 and started seeing my income go up almost immediately! This was due to 2 main reasons.
I got ads on my site
I launched a couple ebooks
Erica's course gave me the confidence/reality check that I needed (plus step-by-step tech instructions) to step it up!
1. Ads
Lesson 2 goes in-depth over how to get set up with ads. Like the basics of what they are, how much you can expect to make, and how to maximize your earnings. She also walks you step-by-step through the nitty gritty tech stuff so you don't have to jumble through it alone!
While I didn't quite have enough traffic to get into the premium ad networks Erica recommends, I had heard about an intermediate level ad network, Ezoic, through some other blogging friends and decided to give it a try.
I'm so glad I did because I'm making several hundred dollars per month completely passively!
I use Ezoic ad network which has no minimum page view requirements.

For comparison, the ad network Erica recommends, MediaVine, has a minimum 50K sessions requirement to join!
Even though I went with a different ad network that what Erica teaches about in her course, there are helpful sections that apply to any ad network (like how to maximize your earnings) that I found helpful.

2. Ebooks
Lesson 4 goes over how to create and sell digital goods, like ebooks, worksheets, checklists, planners, meal plans, etc. Basically any kind of PDF or printable product you could think of!
Erica goes over what kind of products you could sell, how much you can expect to earn, how to create the products, where to sell them, and how to market them.
After taking this section of the course, I realized I had some high performing blog posts that I wasn't able to monetize well via affiliate marketing, so I created low priced ebooks on the same topic as the posts.
The first one I launched shortly after taking this module and have been consistently selling 10-15 per month ever since! That may not sound like a lot, but I'm creating a scalable business. Instead of earning a lump of income by launching a new product then seeing that income flatline between launches, I set it up so that it will sell itself.
That ebook is selling completely passively in the background, and should continue to do so for years to come. As I grow my business and add more and more small products like this, my income will continue to grow over time without adding any additional work.

After seeing the success of this ebook, I launched another one with similar results! I plan to continue to launch a new product every few months to add to that passive income.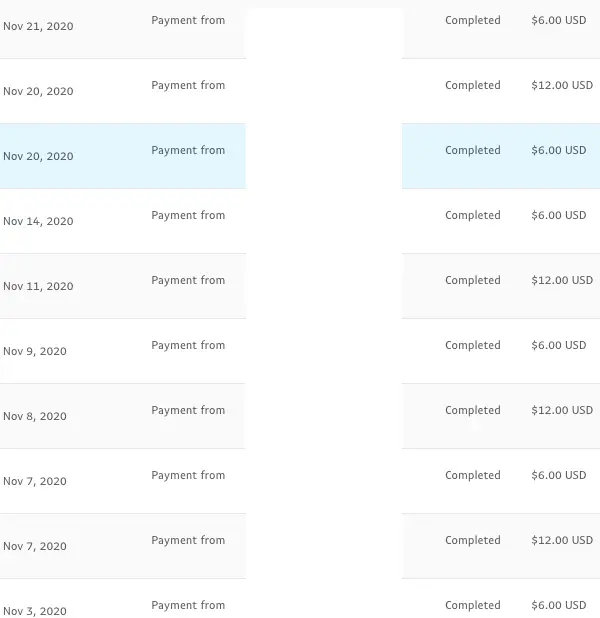 2021 update: I've doubled the price of this product and have added a few new products as well!
What else?
The Make Money Blogging course also teaches you how to make money using affiliate marketing, sponsored content, online courses, and membership sites.
I recommend going through each lesson to learn about each type of income and to see what is right for you.
I was already doing affiliate marketing on my blog but learned some tips to improve my income with it, although it wasn't my focus.
As I went through the other lessons in the course, I saw that putting ads on my site and creating digital products would be easy wins so put my focus there.
At this point in my business, I'm not ready to create a course but I will definitely come back to this lesson in the course when I'm ready! I love learning from online courses because the information is always there for you to refer back to when you need it!
NOTE: this course is closed for admission since November 30, 2020
Highlights of Erica's Make Money Blogging course:
I've taken quite a few blogging courses and trainings. I found this course to cover a big picture view of how to make money blogging and really helps to narrow down your focus into ways to make money that are right for you.

Here are some of the best aspects from Erica's Make Money Blogging course:
Starts broad and covers many areas, but each section narrows down into more detailed how-to tutorials

Get any questions answered in the private Facebook group

Takes you step-by-step from beginner to intermediate ways to make money blogging

Examples are specific to online nutrition businesses/blogs which makes it so much easier to comprehend

Course is mostly in video with written transcripts if you prefer to read (I do recommend watching the videos though as some things are visual)

Handy tech features like searchable videos, speed adjustments, and saving your progress where you left off

Holds your hand through the scary tech stuff
Room for Improvement:
While there was absolutely nothing major missing from the course, here are a few points that could be improved in my opinion.
Some sections were more in depth than others. You could definitely tell that Erica has more experience in creating courses and membership sites than on doing sponsored content as there were more examples and details in those sections.

The course isn't quite as actionable as her SEO course. You're basically only going to use each module when you implement it, and you may have to wait months to implement it (ex: you can't get ads until your traffic is high enough, you don't want to launch a course without an audience).

It makes sense that you're not encouraged to do things until you're ready, but perhaps the course would be more digestible if broken down into smaller individual courses on each subject that you could purchase when you're ready to start.

There is a lot of reference to information taught in her SEO course which she recommends taking first. I do agree that it's important to have traffic or an audience before trying to implement most of the money making tactics, but there is a lot that we can implement before we have good traffic and some people even create successful businesses without SEO at all so not necessarily a prerequisite.
This course paid for itself
I saw an almost immediate increase in income after implementing the course allowed after adding Ezoic ads on my site and launching 2 small ebooks.
Just those 2 additional income streams (ads and ebooks) helped me cover the price of the course in about 2 months.
In other words, the course paid for itself within 2 months! All additional income from those sources (and any new ones I add in the future) are profit.
If you're still not sure if it's right for you, I've listed some scenarios to help you decide below.
The Make Money Blogging course is for you if:
you want to diversify your income streams so you're not reliant on just one form of income
you want to make more passive/scaleable income that doesn't require directly trading your time for money
you're interested in earning money from a blog, whether part time or full time
you like creating content like blog posts, handouts, checklists, ebooks, etc
you already have a website and at least some audience/traffic
It's not for you if:
you are looking for instant results /quick money. Most of these tactics take time, unless you have a high traffic blog that you haven't yet started to monetize.
you don't want to have a website
you're not interested in investing in your business to help it grow
you're already making a lot of money blogging (this is more beginner to intermediate level)
FAQ About Make Money Blogging Course:
Do I need to have a website?
Technically you could take the Make Money Blogging course before/without starting a website and start making money.

I think it's much better to learn on a "just in time" rather than a "just in case" basis though.

To get the most out of the course, I recommend you take Erica's free course on how to set up a website first. Check it out here.
Is the information actionable or more theoretical?
Erica does an excellent job of explaining the theory behind each aspect of making money while also giving highly actionable steps for each lesson.

That being said, you likely won't use every section right away because after learning what ways you can make money and the pros/cons of each, you'll go in depth into implementing one of them at a time.
I hope you found this case study and review of Erica's course helpful!
Get a FREE SEO audit from me ($300 value) if you use code SEOFORDIETITIANS when you purchase SEO Made Simple!
To get the bonus, simply CLICK HERE which will take you to the waitlist page where you'll sign up to watch the FREE SEO Master Class and get access to purchase the course.
Remember to use code SEOFORDIETITIANS at checkout, then email your purchase receipt to me at [email protected] and I'll send your bonus to you shortly!

Disclaimer: this is my affiliate link which means I may earn a commission if you purchase through my link, at no cost to you.
I hope you found this review helpful in deciding if Erica's Make Money Blogging course is right for you!